In our offer you will find metal, stainless steel and explosion-proof canisters (on special request). They have been manufactured in three standard sizes 5, 10 and 20 litres since 2000.  We paint our canisters in any colour from the RAL palette, as well as using patterns (e.g. moro). Canisters made of metal are durable and reliable. The quality of our canisters is confirmed by the certificates we possess, which are recognized in the whole European Union. The products meet the most rigorous standards and are used in NATO missions.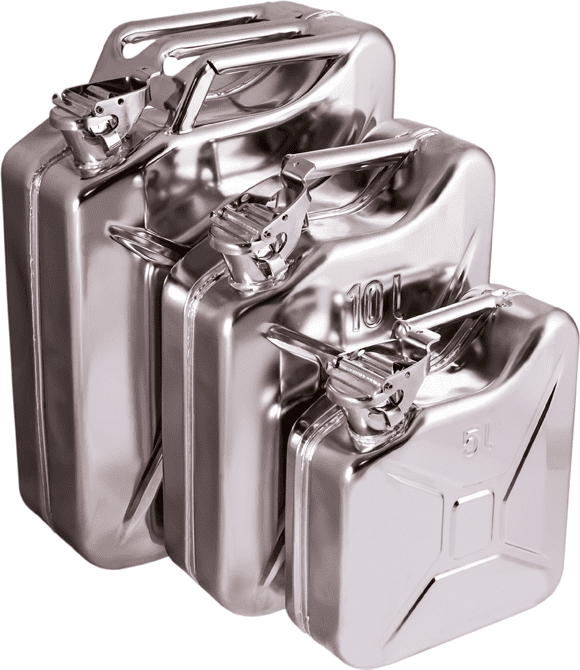 It is a handy model with small dimensions. It is perfect for the garden, on a plot, as well as for short trips. It can be used for work with internal combustion engines. The canister has a comfortable handle and bayonet closure. It is powder coated, which apart from its aesthetic appearance prevents corrosion. The interior of the canister is protected so that the content does not spoil.
Dimensions 275x247x106mm.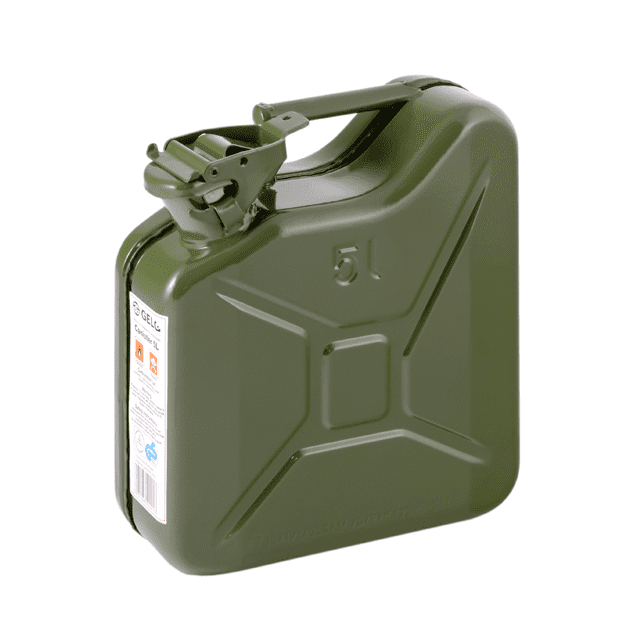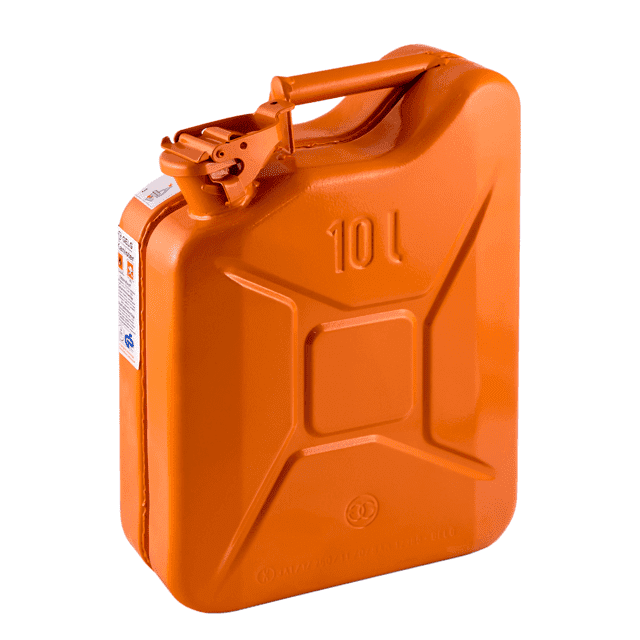 The 10 litre jerry can is a neat and aesthetic product. It is equipped with a comfortable single handle and bayonet closure. It fits easily in a passenger car, on a garage shelf or in a home workshop. It is perfect for work with internal combustion engines. Jerry cans are powder coated, which ensures high resistance to rust. Thanks to the protection inside the canister, the content does not spoil and can be stored for a long time.
Dimensions: 282x390x130 mm
The 20 litre model from the family of steel jerry cans is a product for demanding customers. Due to its size, the 20-litre jerry can is equipped with a triple handle that can carry one or two people. The bayonet closure ensures tightness and eliminates odours. Protected inside against rust and spoilage. Reliable during off-road expeditions, resistant to damage and above all durable.
Dimensions 468x345x165 mm.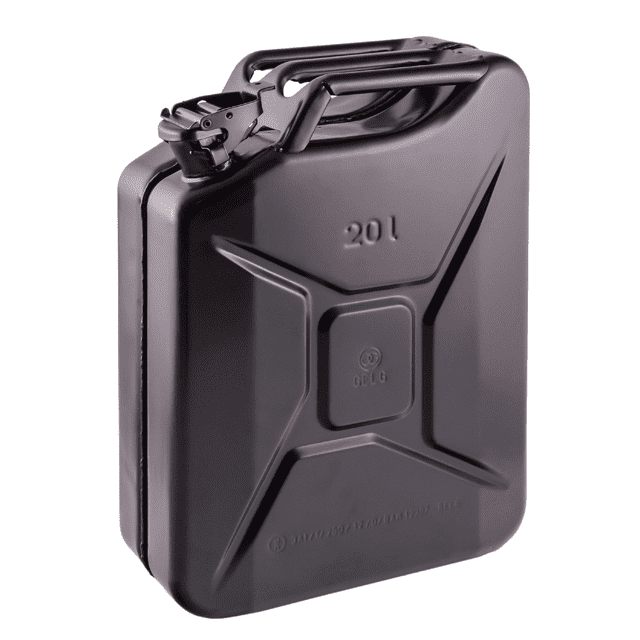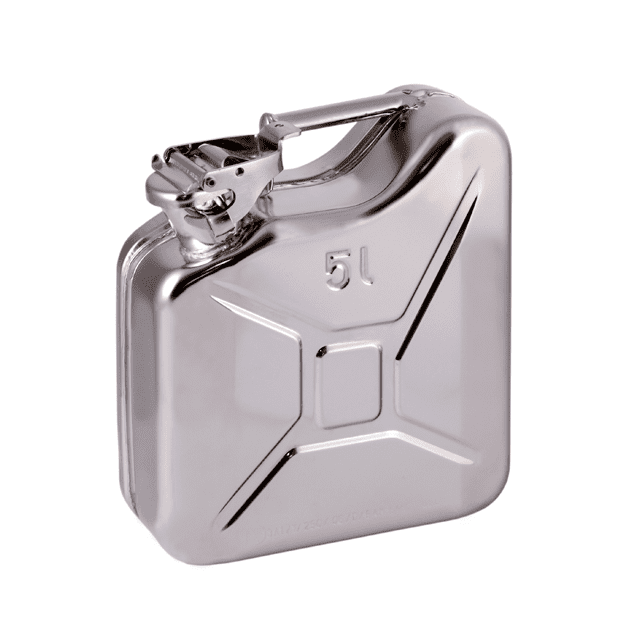 The 5-leaf stainless steel jerry can is a product from the PREMIUM range. Due to its properties, stainless steel provides exceptional strength. Stainless steel jerry cans are particularly resistant to weather conditions, with several times higher corrosion resistance. Their elegant appearance provides them with a mirror-like colouring and beautiful gloss. It is perfect for work with internal combustion engines. An original gift or gadget.
Dimensions 275x247x106mm.
Stainless steel jerry can, 10 litres from the PREMIUM product range.  It is several times more resistant to weather conditions causing corrosion. It is made of stainless steel, capable of regenerating as a result of scratches. The canister has an elegant mirror-like colouring and a beautiful sheen. Resistant to high temperatures and diluted acids.
Dimensions: 282x390x130 mm.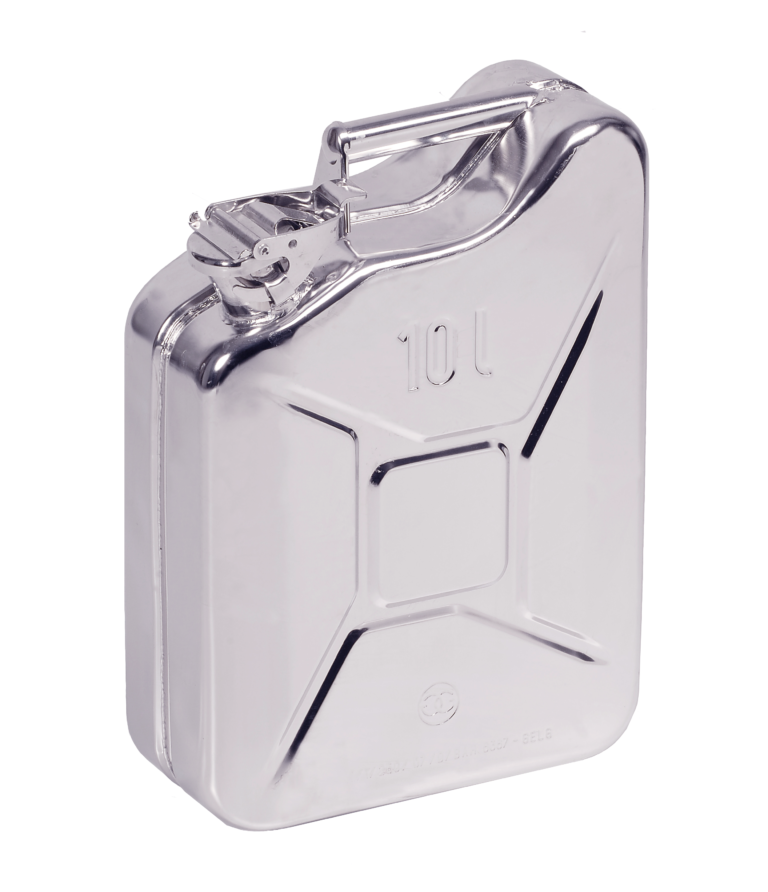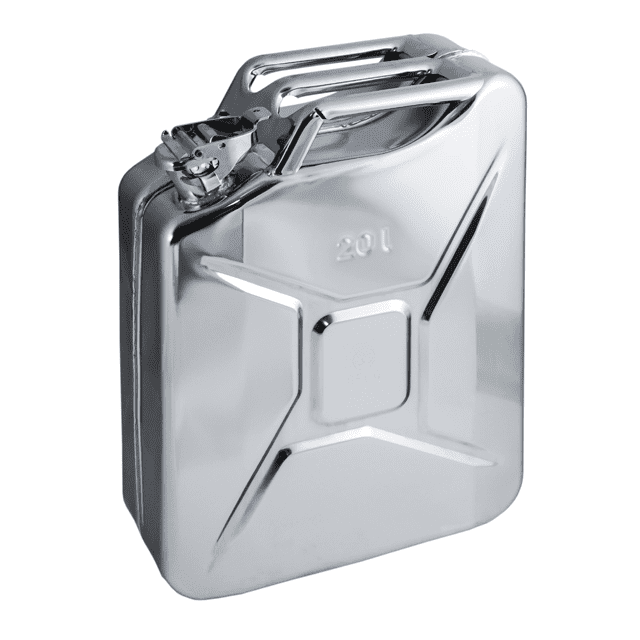 A 20 litre jerry can made of stainless steel is a PREMIUM product for the most demanding customers. High quality non-rusting steel ensures durability and reliability. Equipped with a triple handle it is easy to carry in one or two people.  The bayonet closure ensures tightness and limits the release of odours. Elegant mirror surface with a beautiful shine is able to regenerate when scratched.  The jerry can has exceptional resistance to weathering.
Dimensions 468x345x165 mm. 
The jerrys cans funnels speed up and facilitate emptying. The shape of the funnel reduces splashes and stains when pouring the liquid.  Three different types of funnels are available. Designed for jerry cans of 5L, 10L, 20L capacity. Small flexible tip included in the set for metal funnels! Metal funnels are made of pressed steel. The material is painted with fuel-resistant powder paint.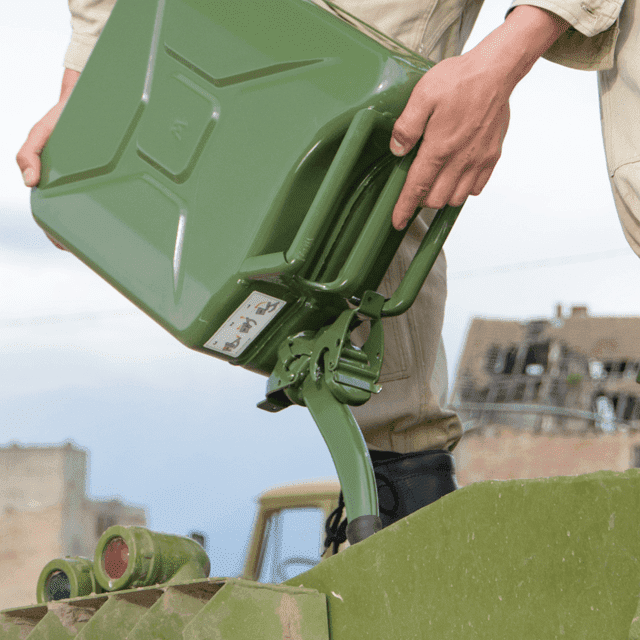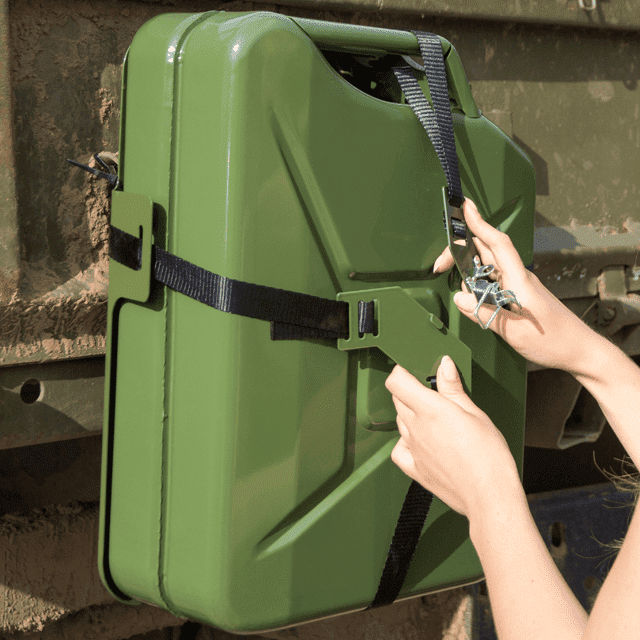 Ideal for transport and suitable for metal jerry cans. Thanks to the holes in the fastenings, they can be mounted with screws at any desired location, e.g. on the loading area or outside the car cabin. It is also possible to weld the fixings to the vehicle. The lashings can be locked with a padlock to prevent falling out or theft. Sponges and straps inside the lashings protect against shocks and impacts. 
We know everything about jerry cans. Our products can be found all over the world. We meet the highest quality standards, which is confirmed by TUV, NATO and BAM certificates. We do not accept any compromises, we have been making cans with the same technology for years, using the same, best materials. We ensure safety of their use.
Production
Watch the video from the production

Automotive

Horticulture

Sailing

Healthcare

Military

Construction